BYU quarterback Jaren Hall, center, addresses the team after wrapping up fall camp, Aug. 23, 2022 in Provo. (Jaren Wilkey, BYU Photo)
Estimated reading time: 7-8 minutes
PROVO — With one week to go until the Cougars' 2022 season opener at South Florida, BYU put the finishing touches on fall camp and moved on to the Bulls this week.
The Cougars wrapped up a quiet camp Tuesday with the final scrimmage, a reserve-heavy lineup that included close to 100 plays, an appearance by a few starters like quarterback Jaren Hall and tight end Dallin Holker, and a wide range of reserve players trying to find a spot on the two-deep depth chart and travel roster for Sept. 3.
The next day, they celebrated the end of camp with the annual rafting trip on the Provo River following workouts. A few players have been sore, even "banged up," Kalani Sitake said, but little that a few good weight sessions and the cryotherapy of the 55-degree water wouldn't fix.
Most importantly, though, was health. The Cougars navigated fall camp without major injury, certainly without any of the season-ending variety. Following a 2021 campaign that finished 10-3 while being held together by duct tape and the collective prayers of a fan base whispering for a 5-0 record against the Pac-12, the overall health of the team to this point in the season can 't be understated.
Chaz Ah You's status for the season remains uncertain after last year's season-ending leg injury, and Isaac Rex continues to rehab from his gruesome ankle injury suffered in the regular-season finale at USC.
But the group hasn't suffered a major injury since incoming freshman Logan Fano went down in March with an ACL tear; and while the former Timpview star's status for the season remains uncertain, that's a small victory on which the football team can count.
"I felt like the boys played hard," defensive coordinator Ilaisa Tuiaki said. "We've stayed healthy throughout camp, which is huge for us. I feel like we've got some good depth. We're going to need all the help that we can get with our depth going into a season with 10 games and no byes."
Above all else, the Cougars are as healthy as they've been at this point in camp. Now they can move to the next agenda item: following up back-to-back 10-win seasons beginning with the 2022 campaign — their last as an independent before joining the Big 12.
"It's exciting. This is when it starts to get really fun," BYU running back Lopini Katoa said. "You're grinding out the first few weeks of fall camp and just working hard to get on the same page as everybody and look like a good team. Now it's time to settle in and get ready to play in the game."
Here are four other takeaways from fall camp.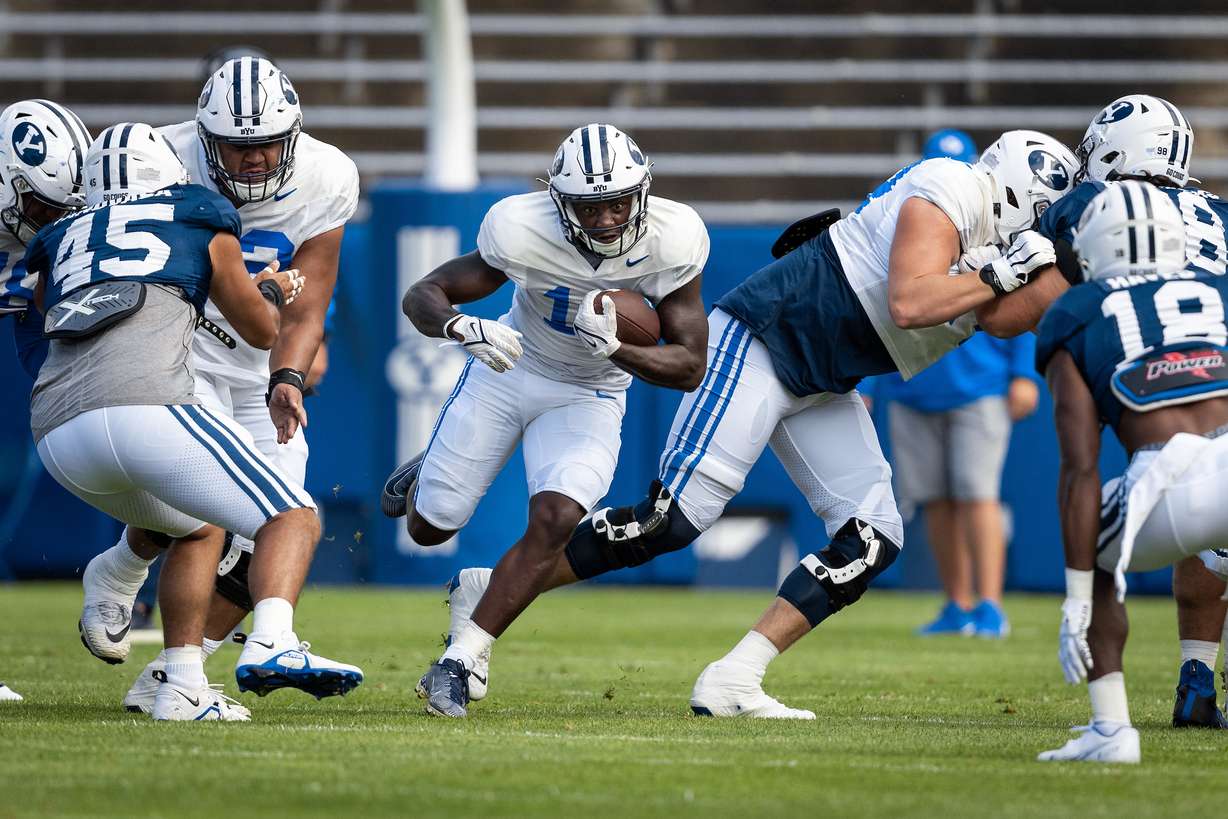 The strength of the team is offensive line
If there's one position that isn't settled into a full row of pure "starters," it's the offensive line, but it's not for lack of trying.
Offensive line coach Darrell Funk has tried to make sense of battles at left tackle, center, right guard and right tackle through fall camp. But the reality is, the Cougars just have too many good players to make much sense of clear-cut separation.
It's a good problem to have. Instead of rotating the same 5-6 players on the line, as he sometimes prefers, Funk said he'll likely widen the rotation to 8-11 players.
"If I was a betting man, that is what I'd say would happen," Funk said. "We just have too many good players that have played and know what they're doing. We'll be pretty polished by the end.
"Normally, I don't like to sub a lot. But if they're deserving and there's no dropoff, then we'll rotate."
The core line battles involved Blake Freeland, Kingsley Suamataia and Campbell Barrington at left tackle; Connor Pay and Joe Tukuafu at centre, with a late charge from Sam Dawe; Tukuafu and Barrington at right guard; and Harris LaChance, Brayden Keim and Suamataia at right tackle.
The most set spot is left guard, which should go to preseason All-American junior Clark Barrington, with redshirt freshman Tyler LIttle as his backup. And the older Barrington could also play center in a pinch, Funk added.
The offensive line battle might last all season, offensive coordinator Aaron Roderick admits. And if the heavy rotation goes well into the campaign, he's not opposed to jumbo-sized heavy-line packages with more than five down linemen, Roderick added in a half-serious response to a quasi-joking question.
"There are some talented players that, no matter what we do, are going to be standing on the sideline," he said. "We're still trying to figure out how or if we are going to rotate guys or just play the same five. That battle is ongoing and will be week-to-week."
https://www.youtube.com/watch?v=NIhs3BXPao
BYU's offense could be really good, and that's OK by the defense
With 90 returning starts on the line, Hall as the starting quarterback for the second-straight year, and wide receivers Gunner Romney, Puka Nacua and Keanu HIll combining for 33 returning starts, the Cougars could be primed for an offensive breakout.
BYU ranked No. 17 nationally in total offense a year ago, lost Tyler Allgeier to the Atlanta Falcons, and are projected 25th nationally in the preseason by ESPN's SP+ ratings.
Is there a concern whether that causes friction in a locker room that also includes a defense that rated 74th last year but returns 67 starts in the secondary, and 58 on the defensive line, and 73 at linebacker — including the "Big Three" of Ben Bywater, Keenan Pili and Payton Wilgar?
Hardly.
"We have a really good offense; I'm sure a lot of people are talking about it, and I think it's warranted," Tuiaki said. "Our offense is really good; our defense battles with them every single day. I'm sure things are being said, but we're a lot more concerned about everybody showing up.
"We're pretty good on defense. There were a lot of games, especially early last year, where we needed to play really good defense to win. Later in the year especially, it thought our offense did a phenomenal job carrying us. … We know we have a really good offense, we know that we're battling every day; and nobody wants to say we're a chump. I think for our players, it's more for personal pride."
That being said…
It's a good thing BYU isn't playing on Week 0, Roderick admitted. Sure, the coaches saw good things as they wrapped up fall camp, and many of the reserves have filled in admirably for a starting group focused on staying healthy.
But the team — including the offense — is hardly perfect.
"We still have a lot of work to do," Roderick said. "We're nowhere near ready for a game yet, but we'll be ready a week from Saturday. There are still a lot of things to work on, but it will be nice to start focusing on an opponent. Overall, we need to work on all areas of our offense."
One area where coaches and players agreed has improved, even since last year, is in the depth of the team. Of course, a season ravaged by injuries will do that, too.
"I'm more confident than ever in our depth," Katoa said. "It's just nice knowing we have multiple guys who could start and do well in a position. So, I think we'll be able to keep fresh bodies out on the field."
Safety first
While the offensive line faced plenty of position battles during camp, and Hill is furiously fighting off Chase Roberts and Brayden Cosper, among others, for the WR3 job, BYU's biggest position battle on defense probably belonged to the strong safety.
And that job went to Ammon Hannemann.
The 6-foot-1, 200-pound sophomore with four starts totaled 34 tackles in 10 games last season, and entered the fall with a slight edge over Micah Harper and Talan Alfrey to start at safety alongside Malik Moore.
And then Hannemann earned the job outright with his play, Tuiaki confirmed.
"Ammon has just been consistent," he added. "He's consistently gotten better and better and better. He's been playing at a high level, understanding well, anticipating things to happen on offense and he's given us a lot of good reps.
"Anyone that's playing consistently and doing their job the right way is the one that wins the starting job. He's certainly been a guy that's shown through last year and in this fall camp that he's capable of doing that."
Hannemann joins an experienced defensive secondary that runs as deep as any BYU has had since Sitake was named head coach almost seven years ago. It's one that includes Vanderbilt transfer Gabe Jeudy-Lally and junior college transfer Mory Bamba at cornerback, alongside Oregon State transfer Kaleb Hayes, as well as four-year starter D'Angelo Mandell.
x
Photos
Most recent BYU Football stories
More stories you may be interested in
.